The coming and going of the summer solstice brought with it much excitement on our end for all things sun related. Of course, we're always excited for all things sun related, but these few weeks have much in store for us as we prepare for the solar eclipse. We believe the solar eclipse will firmly knock people's socks off, and we don't want anyone to miss it!
By all accounts, WNC is well positioned to experience this most anticipated astronomical events in recent memory, and people are getting very excited for it. On August 21, 2017 a total solar eclipse will make it's way across the continental United States, starting in Lincoln Beach, Oregon and ending in our neighboring state in Charleston, South Carolina.
Nicknamed "The Great American Eclipse", this is an event that is sure to inspire awe and wonder in all who manage to catch it.
Lucky viewers within the 70 mile wide path of totality will be able to witness a total solar eclipse, while those that fall outside of that ribbon will only have access to a partial eclipse. Although the total solar eclipse is the more coveted event of the two, either sight is bound to be stunning!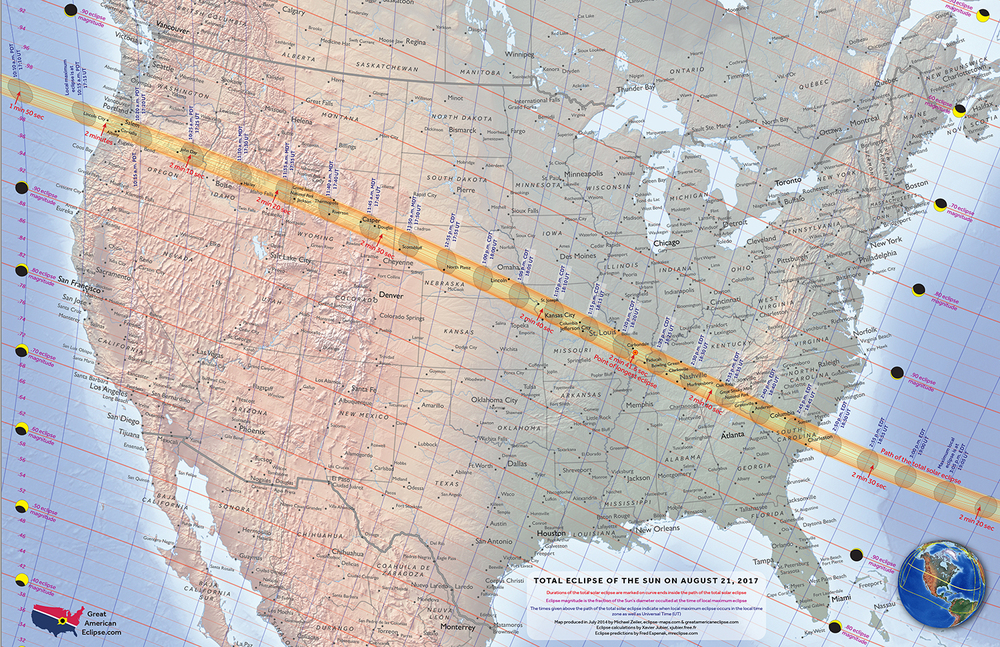 While the total solar eclipse will not be seen in Asheville proper, the surrounding lower regions of WNC will be prime viewing territory for this awe-inspiring event. Check out the image below to see the projected path of the eclipse. The closer your position to the yellow, middle line, the longer you will be able to view the full totality.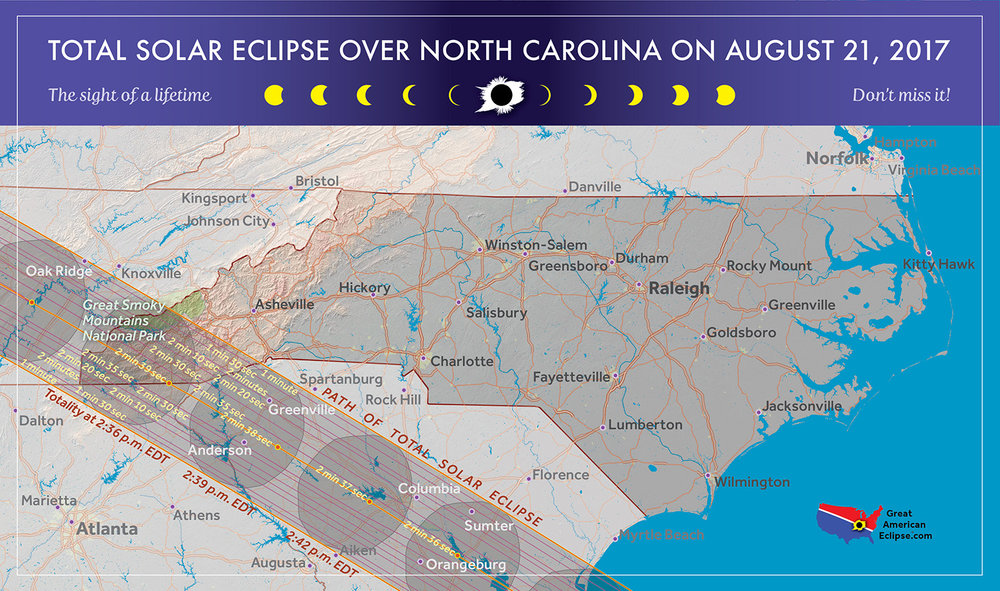 The total eclipse is set to enter North Carolina at 2:33:29 pm in Great Smoky Mountains National Park. The surrounding counties of Graham, Macon, Swain, Jackson, and Transylvania will also be in the path of totality, with a host of events planned in each of these locations to celebrate.
All told, the total eclipse will be viewable in North Carolina for roughly 16 minutes.
So what exactly is a total solar eclipse? Why is it special?
A total solar eclipse is a rare event in which the Earth, moon, and sun line up so that the moon completely obscures the sun, leaving only the corona, the sun's atmosphere, visible from behind the blockade of the moon. This is possible because, despite the fact that the sun is roughly 400 times larger in diameter than the moon, the moon is also 400 times closer to the Earth- thus making their size appear relatively the same.
The video below demonstrates how the rotation and angle of each celestial object changes the direction of the shadow and creates the resulting partial and total eclipses.
This phenomenon is particularly exciting as it is the first time in almost 100 years a total solar eclipse spanned the length of the United States! On June 8, 1918, a total solar eclipse crossed the United States from Washington to Florida- a path very similar to our upcoming show.
Lucky for everyone today, the next predicted total solar eclipse to cross the US is set to happen a short 28 years from now, on August 12, 2045!
How can I see it?
Good question, and a very important one! A common misconception is that it is safe to look up at the sun during a solar eclipse. This is not the case even slightly. Permanent eye damage and/or blindness can result from staring at the sun. The only time that it is safe to look up at a solar eclipse without eye protection is during the few minutes of totality, when the sun is completely blocked by the moon.
Otherwise you must be wearing protective eye equipment (and no, sunglasses do not count) or using an alternate method. A variety of "special-purpose solar filters" are available for purchase online, mostly in the form of eyeglasses (think 3D movie glasses) and run fairly cheap. Or, if you're crafty and want to give it go, you can always make a pinhole projector!
Are there any events happening?
You bet! WNC will be teeming with solar themed festivals, outings, and educational events.
Some of the highlights include:
An Eclipse festival in Cashiers, NC
A moonlight run in Cullowhee, NC
Special dark (dark!) stout released by Sneak E Squirrel Brewery
Solar Eclipse Pale Ale to be released by Catawba Brewing Co.
Viewing of the solar eclipse from the top of Clingman's Dome in Great Smoky Mountains National Park (note: you will need to get tickets for this!)
Total solar eclipse viewing at the Pisgah Astronomical Research Institute (PARI). Tickets can be bought here.
Check out the full listing of Jackson County events here, and be sure to check out happenings in Asheville as well!
Quick note and word of caution, this event is expected to bring thousands of tourists/travelers/eclipse chasers to the WNC region. Rough estimates project anywhere between 18,000 and 63,800 people will be traveling to North Carolina just to see the eclipse. Heavy traffic is expected to gridlock streets the closer to the event it gets, so make a plan before August 21st and leave as early as possibly to avoid the traffic!
We sincerely hope that everyone has a chance to view this incredible event, as it is something that many people have described as "beyond wonder". The Great American Eclipse website has an especially poetic passage about the Splendor of Totality:
You cannot completely prepare yourself for the sight of a total solar eclipse. When totality arrives, you will experience primal emotions and wonderment at the unspeakable beauty of the corona and the panoply of colors and light as you've never seen before. You will involuntarily scream, gasp, or perhaps cry at this astounding vision.
When you look at the eclipse, you will perceive the blackest black imaginable surrounded by the Sun's ever-changing atmosphere, the corona. The quality of light is stupendous with an amazing light show of iridescence, scintillation, and delicate colors.
Another realization that may hit you during totality is that you are watching the solar system in motion. In real-time, you can perceive the relative motions of the Moon around Earth and the Earth around the Sun.
Even for those who have seen it before, a total solar eclipse is an intensely emotional experience. You will feel ecstasy, wonder, and regret when it is over. You will immediately discuss plans to see the next one.
We hope that this event elicits all of these emotions and more, and leaves viewers with a resounding appreciation for the presence of the sun. While the actual solar eclipse is not that great for solar panels (no light = no energy) it is an event that brings people together to discover and discuss the wonders of our solar system; any event that furthers the education and appreciation of our most awesome source of energy is an event that we can all get behind!
Also, if you would like some excellent resources on the upcoming eclipse be sure to check out these two websites: