Zero Down Residential Solar Financing
Loan options include:
Fixed rates

Zero down - You are welcome to apply as much of a down payment as you would like
Easy approval process

5, 10, 12, 15, 20, 25 and 30 year terms

Interest only options for first 18 months

No payments to be made until 30 days after solar energy system is installed

Re-amortization: permitted once within first 18 months

Re-amortize your loan over the years if you desire

Allows for federal ITC, state tax credits and rebates to be applied to loan amount
Commercial & Non-Profit Solar Financing
SolFarm has developed a network of investors and lenders to fund your commercial and non-profit solar energy projects. Terms are flexible and can be customized for your project and needs. Funding typically comes in the way of shorter term (7 year) loans or longer term (15+ year) mortgage style loans.
We also have "mission oriented" investors specifically looking for opportunities with non-profits such as churches, municipalities, and schools. These investors seek large projects that reach beyond just solar energy to include energy efficiency upgrades to your buildings (windows, lighting, and insulation), HVAC systems, converting gas powered appliances, tools and vehicles to electric, geothermal, and more. Make the switch to clean powered electric with a single plan of action.
Solar Leasing
SolFarm Solar Co. is one of a few solar energy installers licensed by the state of North Carolina as a Solar Energy Lessor. Please Contact Us if you are interested in leasing a solar energy system for your business, school, campus of government building.
Advantages To Financing Your Solar Project
As utility energy rates continue to rise, 4% average annual increase nationally, the option to leverage a loan against this utility cost increase is becoming more and more popular. A zero money down solar loan allows for you to keep cash in your pocket and pay for your system monthly. When comparing a solar loan to a common personal loan or home improvement loan, solar loans typically have much longer terms allowing for you to spread out the cost of your investment in bite sized payments.
In most cases, homeowners who finance their solar energy system begin saving money on day one. These initial savings will increasingly grow as time goes on. As energy rates continue to rise year after year your energy costs remain mostly the same as the terms of your loan do not change; the repayment of your loan replaces your energy bill and hedges rising costs.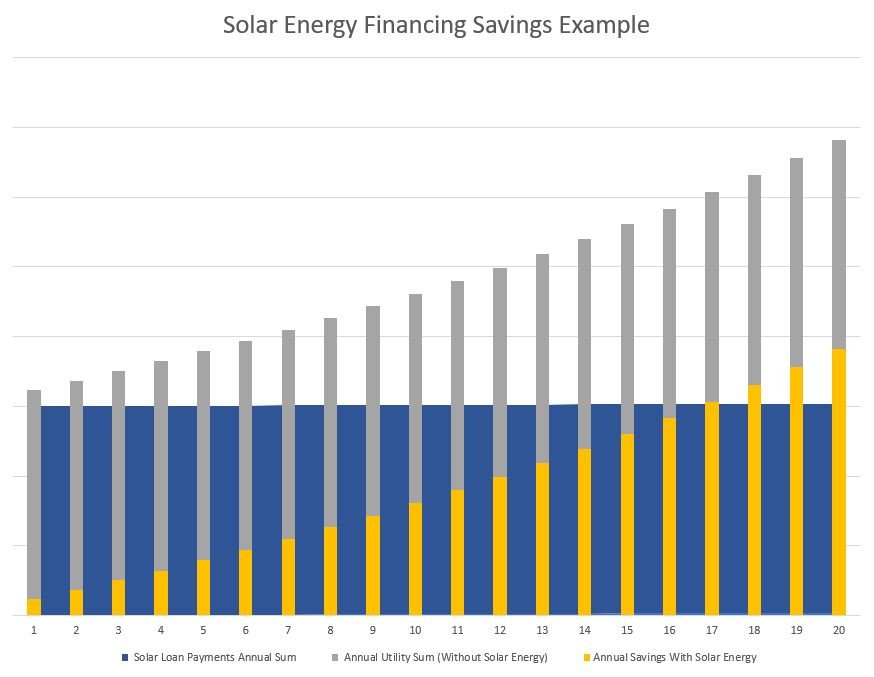 Why Choose SolFarm For Your Residential Solar Energy System?
SolFarm works with you to establish the design criteria for your unique system. Our NABCEP certified team has years of experience designing and installing solar electric systems; rooftop and ground mounts. The SolFarm team will first evaluate the energy efficiency of your home to identify ways to reduce your electrical load. Once an energy analysis has been completed we will move forward with your solar energy system installation. SolFarm will also be available for maintaining your system. SolFarm also helps you with any rebates and incentives that are available in your area. We want you to be at ease knowing that you have a team of professionals with you through the entire process, and beyond.
Have a solar energy PV system not installed by SolFarm? We can service your system as well. Contact us to start the conversation.
Solar Financing FAQ's
Q: How many years can I finance my solar energy system?
A: Typically solar loans are available for 10 - 20 year terms.
Q: Can I apply my Tax Credit and other Rebate and Incentives to my loan?
A: Yes, re-amortization is available to reduce the amount borrowed; lowering your monthly payments. Once you have received your federal ITC and/or other rebates and incentives you can apply these savings/moneys towards your loan.
Q: Is this loan secured or unsecured?
A: Both options exist for solar loans. Secured solar loans typically apply a lien to the newly installed solar energy equipment; not your home or property.