EV Charging Stations
SolFarm Solar Co. provides turnkey EV (Electric Vehicle) charger installation for all levels. Whether you need a level 1, dedicated circuit in your garage or would like to install several level 3 chargers to maintain a fleet of EV's, our technicians are available to provide seamless service; installation to maintenance.
If you have just recently purchased an EV, or are considering one in the near future, you may not know what charger is best for your needs. Here is a quick breakdown of what is currently available:
Level 1: Level 1 charging is the slowest charging option available; 8-12+ hours of charging for a full charge. If you own an EV its important to, at the very minimum, have access to a dedicated 3 prong outlet so that the EV does not share the circuit with other appliances or loads. By not charging your EV on a dedicated circuit you risk overloading the circuit and tripping the breaker. EV's that cannot pull enough power to charge will take much longer to charge. Minimal equipment is needed for this option so material costs are low but the labor is more or less the same when compared to a level 2 charger.

Requires a dedicated 120V / 15 Amp circuit
Level 2: This option is ideal for most homeowners looking to charge their EV's faster; typically around 4-6 hours for a full charge. A level 2 charger will charge your EV in half the time when compared to a level 1 charger. With several models available on the market, you can choose between a mounted unit that stays in your garage, or near where you intend to park and charge your EV, or a portable unit that simply plugs into a designated receptacle in a location of your choice. SolFarm is happy to install the charger of your choice or to provide the charger as part of our turnkey pricing. Level 2 chargers make a nice addition to commercial buildings and businesses looking to offer EV charging services to their customers or employees. Level 2 chargers are compatible with all EV's and most hybrids that also have plug in charging capabilities.

Requires a dedicated 240V / 20-40 Amps (amps depending on charger to be installed)
Level 3: With full charge times as low as 1 hour; level 3 chargers require a lot more power and can be utilized as a revenue source for hotels, service stations and attractions. Level 3 chargers are not universally compatible at this point in time. Level 3 chargers need to be purchased with an EV manufacturer in mind to insure compatibility.

Requires 480V and 80 amps or more
Why Choose SolFarm For Your EV Charger Installation?
SolFarm's team of certified installers and licensed electricians provide seamless service from installation to maintenance on all EV charging stations. Whether you are a homeowner needing a basic level 1 charger or a hotel looking to install several level 2 chargers as a paid service, we are here to provide a turnkey installation. SolFarm will also be available for maintaining your charger and help with any rebates and/or incentives that are available. We want you to be at ease knowing that you have a team of professionals with you through the entire process, and beyond.
Have an EV charger not installed by SolFarm? We can service your charger as well. Contact us to start the conversation.
Level 2 chargers - Best fit for most homeowners
Level 2 EV chargers provide a full charge in half the time needed by a level 1 charger. Level 2 chargers are also compatible with all EV's and most plug in hybrid vehicles.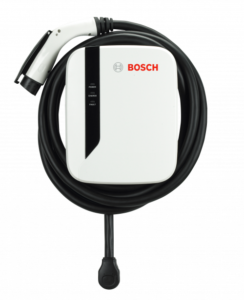 Charge your EV with the sun!
SolarEdge now offers an inverter with built-in EV charging. This solution reduces the amount of equipment to be mounted and saves space in your electrical service panel. Contact us for a quote and mention you are interested in the SolarEdge EV charging inverter.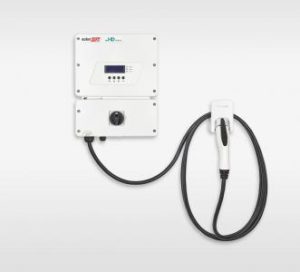 Level 3 charger
Level 3 charging, also known as DC Fast Charging, is currently the fastest available charge; charging most EV's in an hour or less.